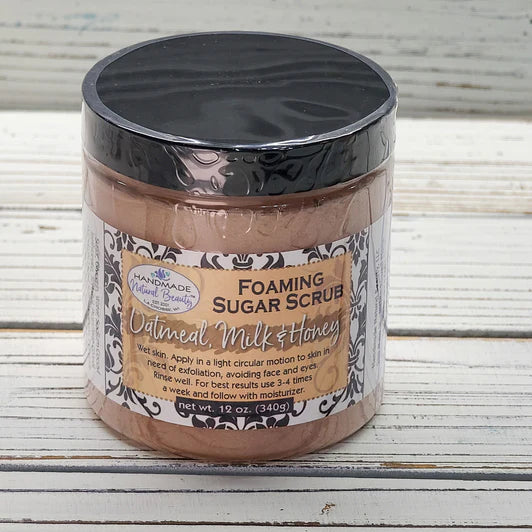 Handmade Natural Beauty
Foaming Sugar Scrub: Oatmeal, Milk & Honey
$ 10.00
Only 0 left in stock.
Foaming Sugar Scrub in the scent Oatmeal, Milk & Honey:  Blended with utmost care, this is the perfect melding of three fabulous scents. Sweet and toasty, this is one scent that you'll want to take a bite out of! 
6 oz size
From Handmade Natural Beauty... 
Not only do these highly scented foaming sugar body scrubs smell intoxicating, they will leave your entire body softer than you ever imagined. The sugar provides gentle natural exfoliation while the butters and oils deeply moisturize. What makes Handmade Natural Beauty's Foaming Sugar Body Scrubs different from standard body sugar scrubs, is that they are also infused with a gentle cleanser which provides a light foam and cuts down on the oily feeling most standard sugar scrubs leave you with. Handmade Natural Beauty's sugar scrub will leave your skin silky soft! Handmade in La Crosse, WI.
---
Share this Product
---
More from this collection